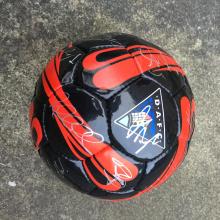 Soft Auctions will allow you to auction items for a club or a charity. You can set up and use our site for free. Some people call this method a Silent Auction. We are based in Dunfermline, Fife Scotland.

To ensure maximun exposure advertise this auction on your own website and in your local area. People view this as your own private auction web site. Bidding for items would normally continue at your charity dinner or event.

At the end of the auction your winners are asked to contact and pay you directly. In future we may add a payment method online.

Bidding for items is simple and easy. At the end of the auction the highest bidder will be sent details by email with details on how to pay for and collect an item. Bidders will be emailed when bidding for an item and also emailed when outbid. During December 2017 the site had a revamp to improve the user experience.


The current list of auctions can be found on the [Auctions] tab above, with the latest auctions listed on the right hand side.

Below you will see a list of clubs or organisations that have current auction items.
Auction clubs
Key features & benefits
Responsive layout

The layout works on a variety of platforms, mobile, tablet and desktop.
Easy Sign up

Quick and easy registration process using SSL authentication. Email responses when you bid for an item and also when you have been outbid. We will not pass your email to any third party.
Fast loading
The web site is optimised and works quickly on a number of platforms, mobile phones, tablets and laptops.
Easy to setup

Simple and easy to setup your club and start adding items to your auction.
Free support
Should you have any problems setting up your web auction, just drop us an email and we will help you get started.
Automatic operation

Once you have setup and started your auction it will run automatically. Bidders and winners will receive automatic emails. A user will be emailed when they have been outbid. Watchers and bidders will also be emailed 24 hours and 1 hour before then end of the auction.